Not so many years ago Deanston single malt whisky was not spoken about with quite the same regard as it is today. The loyal following this distillery has found is no surprise to me as the whisky produced is of a very high level and is always consistent in quality.
The distillery itself is located on the banks of the river Teith just outside the town of Stirling on the outskirts of the Loch Lomond and Trossachs National Park. Deanston is owned by the Distell group and was founded back in 1965 so the distillery is a relatively young one within the history of Scottish distilleries.
The distillery is located within a refurnished weavers / cotton mill believed to have been in operation since 1785, records show us it was in operation for some 180 years before becoming a distillery.
The mill was originally designed to be powered by water and so its very own river /canal was cut from the river Teith just a few hundred yards away in order to supply the water to run the impressive 4 water wheels ( two smaller wheels in the design of the original Adelphi wheels, one larger one named Samson and the fourth named Hercules. Hercules was rather an impressive beast and boasted some 36 feet in diameter and was capable of producing some 300 hp.
For those who have had the privilege to look around the distillery a few things are obviously different to what we consider the more traditional distilleries within Scotland. Gone are the traditional Pagoda roofs, i say gone, they were never there in the first place ! And secondly, those very traditional red doors that seem to be on every door at the other distilleries ( not actually as common as you would think !! ) are actually Blue.. I was told this might have something to do with a football team but i am sure that was just banter..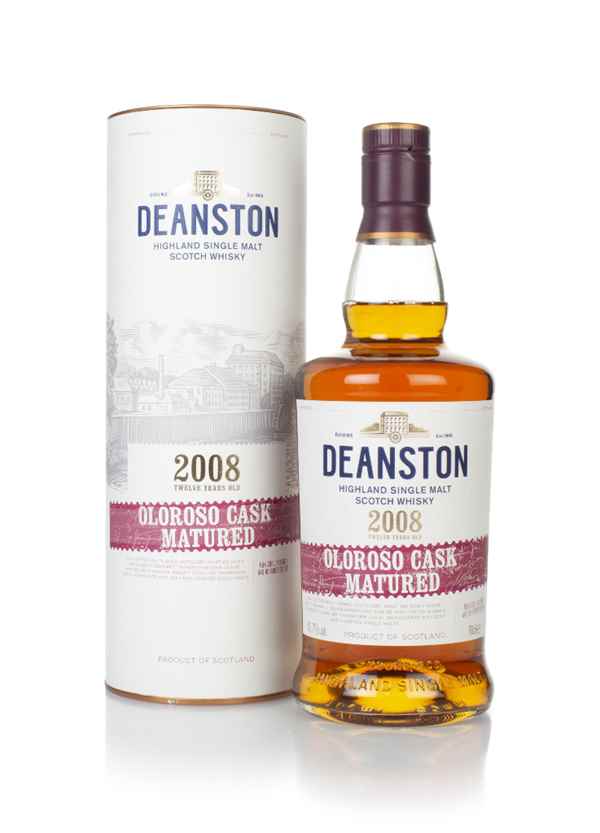 2008 Oloroso Cask Matured – Deanston
Distillery.. Deanston
Region.. Highlands
Age.. 12 years
Abv.. 52.7%
Distilled.. 2008
Cask.. Oloroso sherry Butts
Nose.. This starts of with those typical dried fruits and plum pudding aromas with the added vanilla, espresso coffee and dark chocolate notes id hope for.. Add some peanut brittle, and a little cinnamon, dusty warehouses and a old leather armchair and you are there.
Palate.. A hit of Manuka honey brings an earthy feel whilst those dried fruits dominate there is also a freshness to this. Stewed apples give an extra sweetness and along with the cinnamon notes this screams apple pie.. Chocolate and coffee notes drift in and out with the remanence of sticky toffee pudding and toffee sauce.
Finish.. Gently spiced and oak
Thoughts.. I like Deanston, infact id go as far as saying i really like what Deanston have released over the years and although i do like this i do feel it is lacking something… What that is i lust can not say, its just a feeling when drinking it that there is just something missing.. First i just felt it could be too high an abv ( yes i did say too high ) but having added water ( yes you read that right too ) it didnt make things perfect so i am guessing its either my palate today or i am just gonna have to keep scratching my head on this.. Which obviously translates to id better try another glass..
Anyway, as always the whisky is still good, i will recommend it, i will be more than happy to drink more and i will probably buy another bottle.