When i look back through the whiskies i have reviewed and tasted over the many years i find Arran whiskies don't feature too often and that saddens me.. I know i have not had a bad expression from them and have even had the privilege of being amongst the panel that picked one of the stag releases, so why o why do i not know this whisky far better than i do?
Looking back to the early 19th century, there were more than 50 whisky distilleries on Arran, obviously most of them were illegal and carefully hidden from the eyes of the taxmen but that number is still staggering. The Arran distillery was opened in 1995, at Lochranza, in the north of the Island. One of the stories that is often told about the opening of the distillery is that during the official opening ceremony, two golden eagles, who live on the mountain behind the distillery provided a fly past as a 'thank you' for halting building work for several weeks to allow them to hatch their chicks. On a warm summer's day they can still be found, floating high on the thermal currents, before dropping like a stone, hunting their quarry.
It never feels like this distillery has been open quite as long as it has and that in its self makes me feel so much older. 1995 is a special year as it was the year my youngest was born and that keeps mi in check to just how many years ago that actually was…
The whisky from the distillery seemed to jump from those young whiskies to a whisky that held higher age statements and i remember the buzz when a ten year was ready never mind the whispers that there was whiskies being releases at that magical eighteen year mark. The indie bottlers were always the ones with the older age statements and fond memories of an Arran from Douglas laing matured in a single sherry butt still surface when i mention Arran whisky..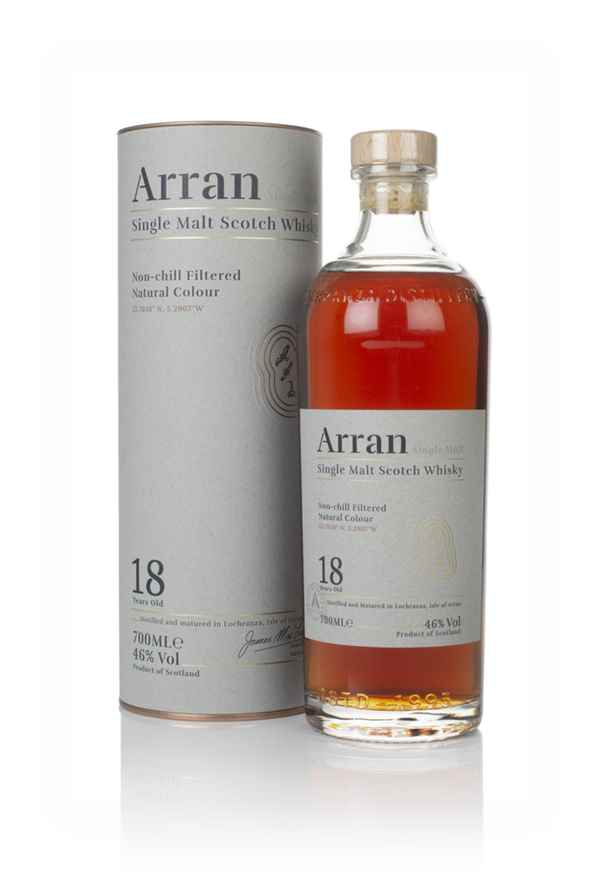 18 year old Arran – Official bottle
Distillery.. Arran
Region.. Islands
Age.. 18 years
Abv.. 46%
Casks.. Sherry Casks
Nose.. Dried fruits such as dates, raisins and figs rise on the back of dark chocolate, black coffee and toffee apples.. There is still a freshness to this with some fresh apple peels and a hint of freshly squeezed orange juice but that does find itself being pushed to the side somewhat.
Palate.. The spices come alive here, cinnamon and ginger explode along with those dried fruits and an earthy dryness from Manuka honey that offer little sweetness. The orange notes are more bitter now with the feel of peels rather than juice. In the background there is a slight burnt taste like marshmallows that have been held over the fire just a second or two too long.
Finish.. Long and full
Thoughts.. This is rich and decadent with aromas that drift gently upwards to entice you in.. There is a bitterness that flows in one moment then a sweetness that comes from down below to bring a smile..
This is well balanced and at times offers some real complexity, whilst it will entertain for hours this feels better when you just dive right in, no messing around, no softly softly just do what you have to and enjoy what is on offer.. You wont regret it.
A bloody awesome whisky from the Arran distillery..