The Tomintoul Distillery is located within the Glenlivet estate, in the whisky region of Speyside. The distillery is named after the nearby village of Tomintoul which is the highest village in the Highlands of Scotland. The distillery was founded in 1964 by the Glasgow whisky traders Hey & Macleod and W. and S. Strong.
Today the distillery still uses traditional techniques that stretch back hundreds of years to make the single malt, know as "the gentle dram". This Distillery produces whisky in quantity and has a capacity of 3.3 million ltrs of pure Alchol per year.
Some of the figures quoted are incredible compared to distilleries located outside of Scotland but within Scotland they are pretty standard, when you look round the distillery you realise just how big this distillery actually is. The distillery is producing somewhere in the region of 73,000 ltrs of whisky per week, which takes an somewhere in the region of 175 tons of barley per week.
This all goes through the Porteus mill, producing grist at a rate of 11.6 tons every 10 hours. This all goes into a 70,000 ltr stainless steel mash tun before being pumped into one of the 6 stainless steel wash backs in use, these then have a 60 hour fermentation time. There are 4 stills, 2 wash stills and 2 spirit stills but all 4 are actually the same size.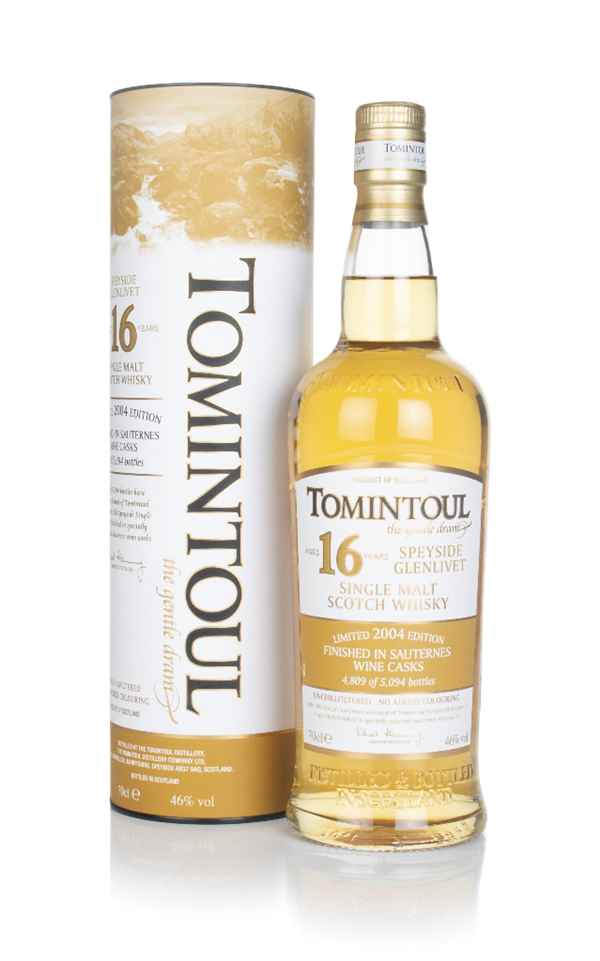 16 Year Old – Sauternes Cask Finish – Tomintoul
Distillery.. Tomintoul
Region.. Speyside
Age.. 16 years
Cask.. Ex American oak – Finished in Sauternes wine casks.
Nose.. Initially you find a gentle malty note that rides on the back of some heather honey. Then its a mixture of green apples, raisins and cinnamon with a gentle dried grass note lurking in the background.
Palate.. As soon as this hits the lips you get those gentle spice notes including cinnamon, ginger and a hint of nutmeg. Honey mixes with dried apricot, peach and a little pineapple, add some bitterness from lemon peels, chocolate and a touch of oak tannin towards the end.
Finish.. Oak tannin and soft sweetness
Thoughts.. Tomintoul as a distillery is not a name that rolls off the tongue but the liquid always goes down well. I, like so many others overlook this whisky for a couple of reasons, its not because its bad whisky, no, just the opposite, its good whisky and some is fantastic, but it is generally bottled at a box standard 40% and this often leaves it feeling a little thin.
There is also the fact we often don't hear very much about it so its not on my mind, this does not help, and thats a shame. The price is generally spot on and never feels out of range but again we often walk past..
This expression however, its 46% abv and believe me that has made a massive difference !! It no longer feels so thin and those flavours and aromas jump out at you and insist you take note.. Come on, lets make 46% the new 40!! it makes sense on whiskies like this..