Life often throws us a curve ball every now and again and without going into too many details my best intentions over the festive period hit a snag.. Over the past few years i have always reviewed the Boutiquey Whisky Calendar and although it is a commitment to review 24 drams back to back it has always been a pleasure to do so.
This time however i failed.
I don't like to fail !
So although i wont be putting these reviews out in order i will be fulfilling my commitment and i will now get these reviews written again..
So the first one i pulled out randomly ( honestly ) just happened to be the Tomatin 36 year old.
The Tomatin distillery was founded in around 1897 when the first official distillery on the site was registered, although with that said it is believed that whisky of some description was produced well before this date and possibly as far back as the early 1700's..
Tomatin was once regarded as the largest distillery in Scotland with its capacity to produce a staggering 12 million litres of alcohol per year from its 23 stills ( 12 wash stills and 11 spirit stills) Today however production is far lower and although this distillery is loved by many it does slip under so many radar's.
The distillery is set in the Highlands of Scotlands whisky producing area and if you get the opportunity to visit then you really should… The distillery is nestled behind a number of houses which are still used to house many of the distillery staff which highlights the efforts the owners gave towards the people who made the whisky (either that or its just to ensure they get to work without the old excuse I'm snowed in )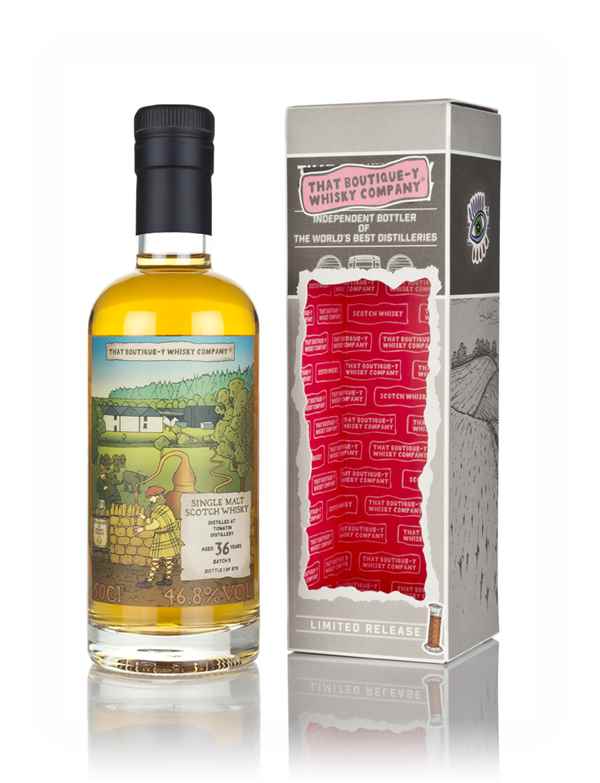 36 year old Tomatin – That Boutiquey Whisky Company
Distillery.. Tomatin
Region.. Highlands
Age.. 36 years
Abv.. 46.8%
Batch.. 5
Outturn.. 878 x 50cl Bottles
Nose.. An instant introduction of pineapple, apple peels, ripe banana and a hint of peach gently lead into honey and lemon drizzle cake. Interestingly there is still a malty note that lurks quietly in the background along with hints of oak.
Palate.. The fruits are still evident but an added darkness slithers in. Dates and sultanas become evident with stewing apples and pears drizzled with warm honey and jaffa cakes. The oak shows up along with gentle tannins, ginger and a gentle bitterness just helps to balance this out.
Finish.. Delightfully long and elegant.
Thoughts.. Its no surprise this whisky was saved until the end as this really does set up that excitement level to high..
This whisky should take you to your happy place, where ever that may be..
When it comes to old whisky i always look for that journey, the feeling of fulfilment, the knowing what this whisky has gone through to get to this age. Not everything ages gracefully, sometimes there is a bitterness, sometimes it just becomes stale and on occasions you find perfection or as near to it as you will ever get.
My advice is when you find it, then take it aside, take your time and appreciate just what you have in that moment as these things never seem to last forever without careful planning. The moment you take that first sip lets you know whats in store and this is when you need to slow down, it is not a race !! The longer you take the longer the moment lasts, yes i know thats obvious but it is still a fact…
No one wants the moment to be over, well i certainly don't.
This Sample was taken from the 2021 That Boutiquey Whisky Calendar and although its a little late in being drunk i see it as the start of a great whisky year !!
So here's to a great 2022 and hopefully a chance to share whisky and memories…