They say the winter months have us reaching for either the peated drams or those big sherry bombs, for me it is the sherry bombs.
Glenallachie is not always the distillery id pick when looking at a new bottle but this one just whispered to me and so the rest is history as they say..
Built in 1967 by Mackinlay McPhearson & Co in the Speyside area of Scotland's whisky production the distillery is today back into private ownership headed by Billy Walker. Mr Walker took over ownership after acquiring the distillery from Chivas Brothers ( Pernod Ricard) in the middle of 2018..
Located at the foot of Ben Rinnes and taking water from the Lour and streams running from Ben Rinnes, the distillery has a capacity of 4 million litres of alcohol per year although the distillery is producing far less at this moment in time..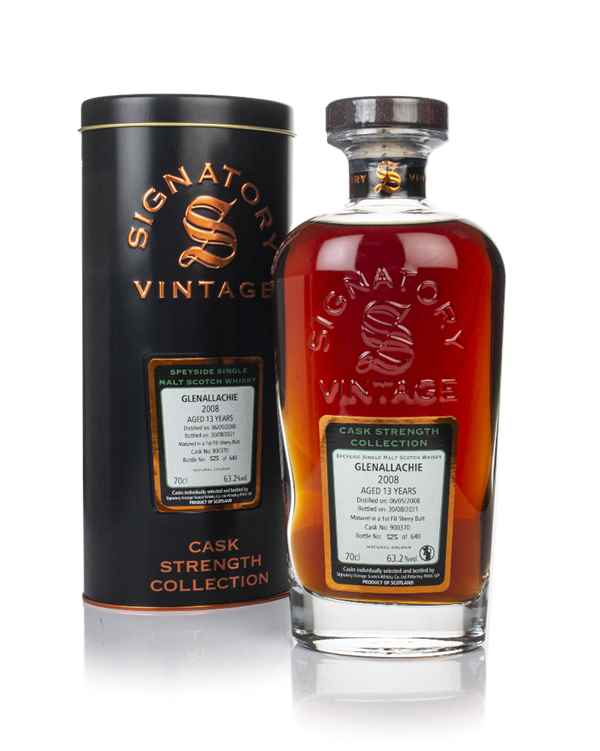 Cask Strength Collection Signatory – GlenAllachie 13 Year Old 2008 cask 900370

Distillery.. Glenallachie
Region.. Speyside
Age.. 13 years
Abv.. 63.2%
Cask.. Sherry Butt – First fill
Outturn.. 640 Bottles
Nose.. Dates, raisins and pastry, in fact just imagine warm eccles cakes freshly out of the oven with a little vanilla icecream. actually imagine this to be only the finest Madagascan vanilla ice cream.. Add some sticky toffee pudding with a toffee sauce, cinnamon apple pies with a crusty / flaky pastry and this certainly has that pudding kind of aroma.. Chocolate does appear along with delicate coffee notes and Ginger biscuits.
Palate.. Those dried fruits are accompanied by figs, plums picked fresh from the tree, stewed apples, chocolate covered Turkish delight ( the cheap version ) and a slight bitterness comes from dark chocolate and coffee beans.
Finish.. Long and bold
Thoughts.. This just keeps on coming with more and more emphasis on the finish.
The enjoyment in this dram comes from the anticipation of what you might discover, the first moment you inhale those aromas are intoxicating. There is quite a sense of power in the moments leading up to the first taste, its almost like you are whisked off into a magical kingdom where everything is so very clear and your only purpose is to dive into this reality..
The whisky itself is complex, it has this seemingly never ending depth which just keeps sending waves of exotic aromas and tastes to you. The feeling of satisfaction is certainly obtainable from this whisky, the only problem is the limited opportunity of obtaining this.. Its going to be one of those bottles you want constantly but know you have to be patient with, its something that will not be shared with others ( sorry ) nor will it be put on show.. Its mine and mine alone, and i shall enjoy it for as long as i can.
Hopefully i have made it clear.. That this is another tremendous bottling from the Signatory Cask Strength Collection..