When approached to look at whisky for companies or give opinions to friends upon whiskies i always feel pressure as you never want to upset them or offend with honest opinions. Upsetting them does seem to come easier on occasions than it should be though.
So when i was recently approached by Vin over at No Nonsense Whisky to have a look at his first two whiskies released under his very own label you know i was intrigued by the bottles, and what liquid he had picked..
It is a hard thing to pick whisky with the intention of selling it on, you put your reputation on the line and as much as we always insist it is all done on opinions we all know how much sniping and backstabbing can go on in the background.
So firstly let me congratulate Vin on taking the plunge and doing this as i am sure the decision was not taken lightly.. Picking from samples in order to bottle whisky for yourself can be daunting and i am sure Vin questioned himself repeatedly, i know i did when i have been on panels and personal bottlings.
From what i understand both these releases were picked blind which is never a bad way to go although personally i do prefer to know what i am picking from for obvious reasons, that said i am not the one putting these out so who cares what i want…
Anyway the first up on todays review is a 9 year old Dalmore.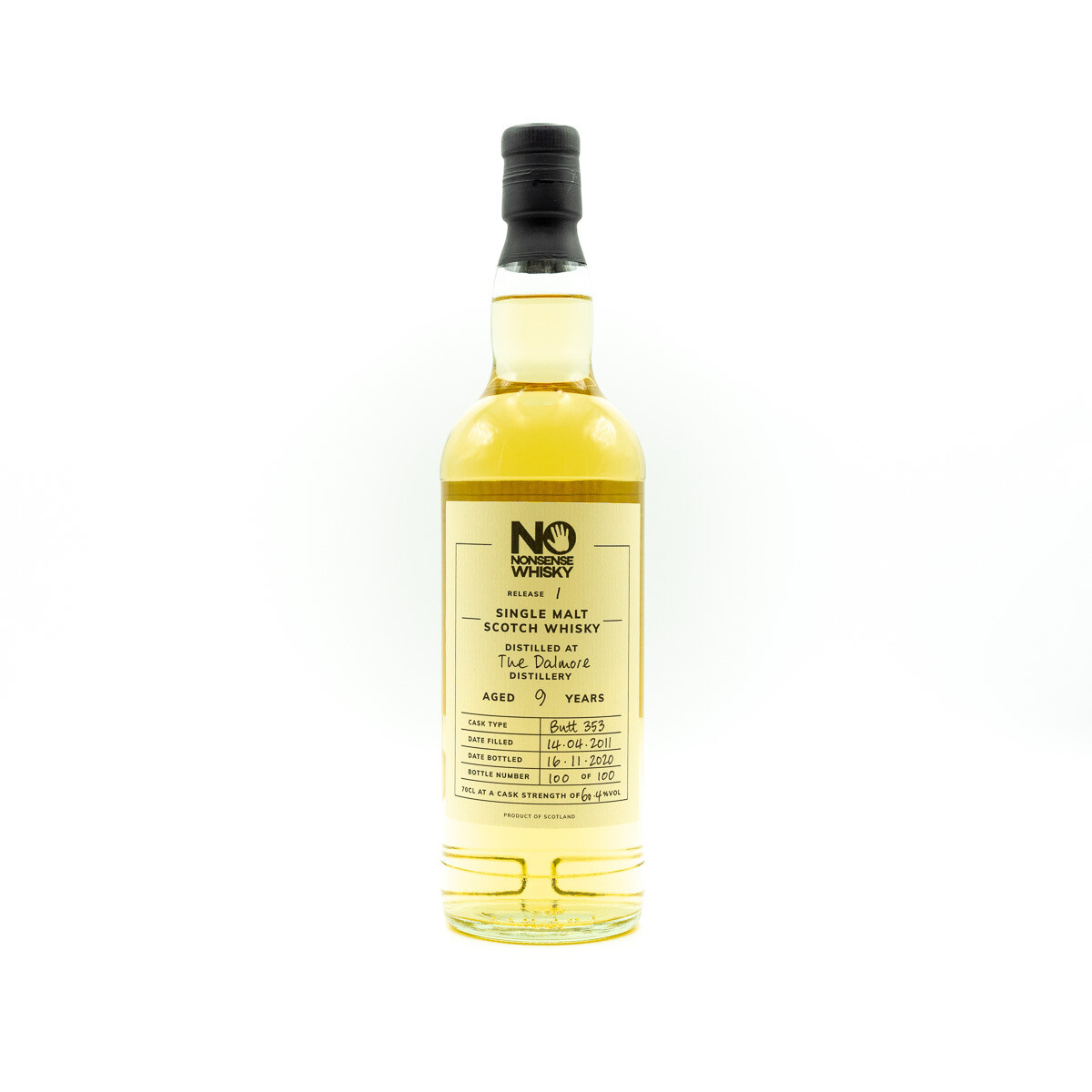 Dalmore 9 Year Old – No Nonsense Whisky
Distillery.. Dalmore
Region.. Highlands
Age.. 9 years
Distilled.. 14/04/2011
Bottled.. 16/11/2020
Abv.. 60.4%
Cask.. #353 -Butt
Independently bottled by No Nonsense Whisky
NCF and Naturally Coloured..
Nose.. Apples, pears, vanilla, toffee and a little hint of freshly cut barley..
Palate.. Ginger and pepper hits first with those fruits struggling to get through but once they appear expect Apple peels, poached pear, lemon rind and some vanilla.
Finish.. Spices linger
Thoughts.. This is certainly sprightly, there's plenty of youthfulness within this and i am not sure if this was indeed a sherry butt, but if it is indeed then it was knackered..
There is a slight creaminess which might suggest it passed some fortified wine on its way to the bottling hall but that's about it for me..
Now if this is from a barrel we turn a different corner, it still feels like an inactive cask but it does offer more a reason for the aromas and flavours on offer.. This is easy to drink still and offers a different perspective to the heavy Dalmore expressions we all love to hate and i can see this making a rather nice tall drink for those summer evenings.. This has a retail price of £75 and can be found HERE..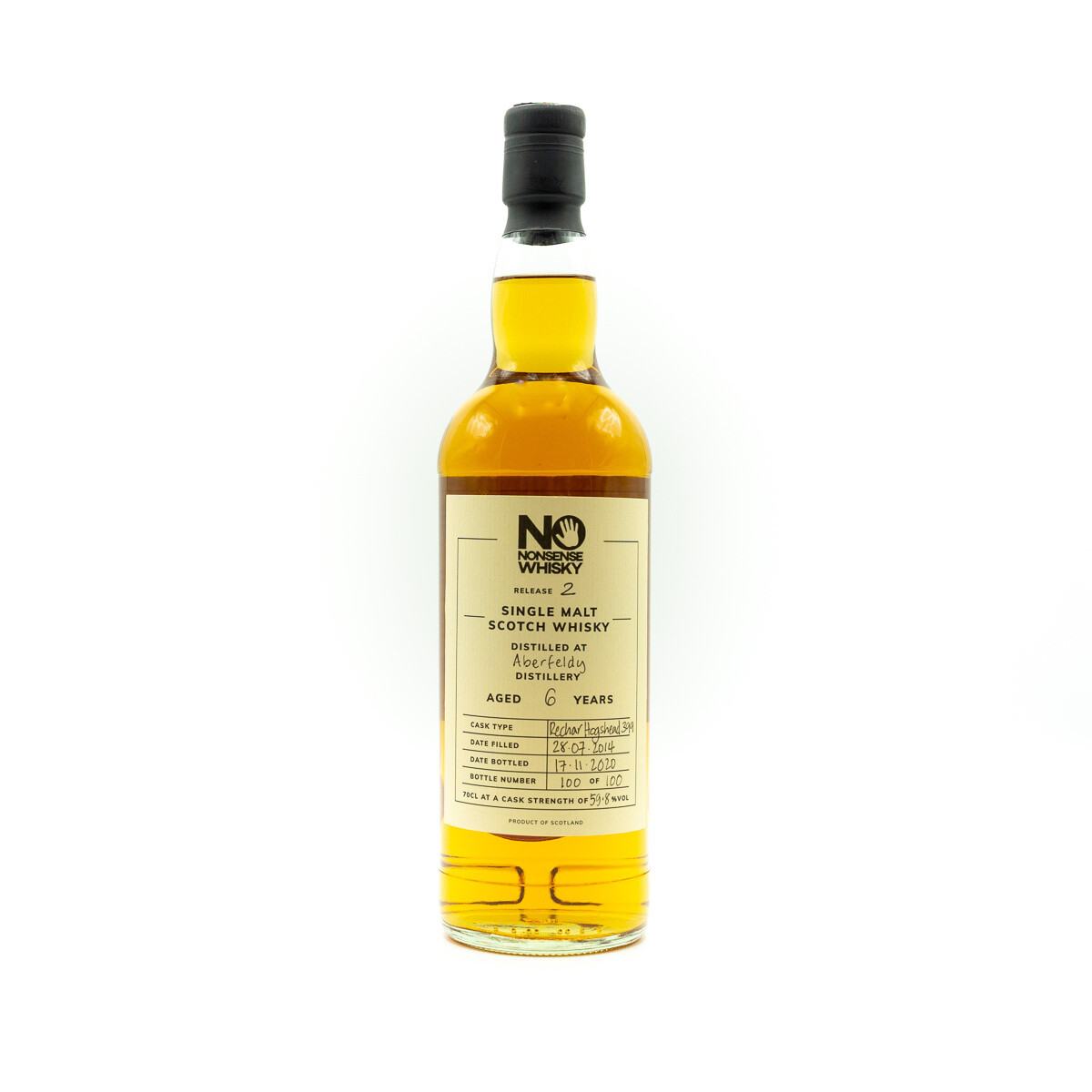 Aberfeldy 6 year Old – No Nonsense Whisky
Distillery.. Aberfeldy
Region.. Highland
Age.. 6 Years
Distilled.. 28/07/2014
Bottled.. 16/11/2020
Cask.. #399 Re Charged Hogshead
Independently bottled by No Nonsense Whisky
NCF and Naturally Coloured
Nose.. Orchard fruits, lemon drizzle cake, toffee, coffee, chocolate and honey.. Hints of dried fruits drop in and out and fresh pineapple appears towards the end..
Palate.. AS above but with a little attitude.. Those chocolate notes mix nicely with the pineapple, apples and orange zest..
Finish.. Lingering sweetness with spice
Thoughts.. This is a little cracker !! Its 6 years old and it honestly slaps the other out the park.. It isnt the most complex whisky out there but it has balance, it has flavour and a little attitude and its only £45…. £45 for a single cask. cask strength whisky from Aberfeldy aint bad. I know to some that price isnt cheap but in todays market, for me, thats a steal.. Nuff said !! O last words on this one is it is available HERE..
Again id like to Thank Vin for sending these samples over for me to look at.. Congratulations on bottling your first two expressions..